✅ NEW - get your business listed and your information shared across social media.
THE governorship candidate of All Progressives Congress (APC) in Rivers State, Dakuku Peterside, yesterday told Governor Nyeson Wike to go and write his will.
Dakuku spoke in reaction to a statement accredited to Wike where he said that any official of the Independent National Electoral Commission (INEC) posted to the state to rig election should be prepared for the consequences by writing his will.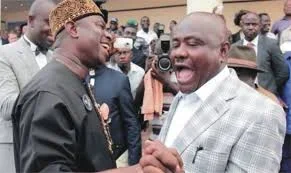 According to Dakuku,"I heard that Wike threatened that if they killed one person before, that they are prepared to kill 100 people this time, and he told INEC officials that would be posted to Rivers State to write their will.
"Wike is daring the will of God, the will of Nigerian people and the will of Rivers people. Not one single person will die. Wike should rather go and write his will; his speech is a sign of frustration.
"What we are noticing is the crying of a frustrated man. Let me tell you, 50 per cent of those in PDP government are already members of APC, they are just temporary members in the government to collect their share."