The sight of his shop among others on the Oniru New Market road, will give you no clue of who Daniel Peters is. Looking tattered, and poorly constructed, his barbing shop among others around there are made of wood leftovers of a construction site. Like every other person, he moves a bit away from his shop to invite customers into his shop for barbing. Daniel, a little above 30 years left his birthplace, Edo state in 2004 , after his secondary school education to pursue a music career. Along the line, with no means to survive, he learnt barbing, and also to promote his tracks – more than six.
Nigerian Bulletin
met with him, and he shares his story on our
Weekend Spotlight
.
Background:
My name is Daniel Peters, stage-named as 'BTS' (Black Twister) I am a Music artiste, and also a barber. I focus on music but because there is no help, that's why I learn barbing so as to sustain myself and the little family that I have. I am from Owa East Local Government of Edo state. I had my secondary school education at St. Paul Anglican grammar school, Akoko Edo state. After my secondary school, I travelled to Abuja in 2004. I did this so that I can get a better life for myself, and because life was hard for my family. I did a lot of music processes there which was not easy for me. I worked as an attendant at a Restaurant and Bar in Abuja. I also worked as a DJ in that bar. I formerly lived with my brother, but when I started working at the restaurant, a woman named Chinyere took me as her younger brother, and decide to harbour me. There, I discovered that I won't do well with music in Abuja. I met a friend who introduced Lagos to me, that if I am in Lagos, my music career would flourish. That's what brought me to Lagos in 2007.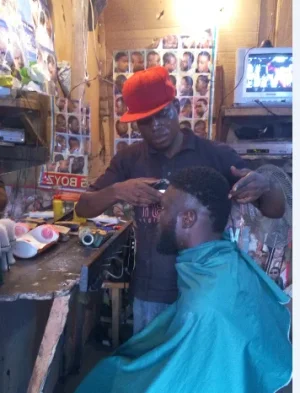 How were you able to settle down in Lagos?
Coming to Lagos was through a friend that gave me the address of this place (Victoria Island). He gave me someone's name to get in touch with upon arriving Lagos. I later hooked up with the person (who is a conductor), and went to his house (ghetto) together. The first work I did in Lagos was to work on construction sites, and help builders carry sand and cement. I did construction work from 2007 to 2008 when I decided to learn something to do. I was refused at the first job due to lack of money. They requested N15, 000 to sign me up . In my search for job was when I met someone who taught me how to barb at Otodo Gbame, a village in Lekki. I learnt barbing for a year and some months. After I got my ''apprenticeship independence'' from Barbing, I went back to Labour work to garner some cash to start up the barbing business. From the little savings, I bought mirror, clipper and kept at someone's house because then, I didn't have a house, I slept at the construction sites.
If you flashback in growing up, what particular moment can you say that you developed interest in music?

Well, I cannot say this is a particular time, but, I remembered that right from my primary school days, my friends and I will out of child's play use ''pangolo' (unused tins) to drums and play and match our rhythm. And that was in 1998. That same year, I used recording tape and cassette, I beat bench and used some of my language to record a music. I took the recorded cassettes to people. People liked the song and encouraged me. In fact, their children called me 'Flasher'. And that was how I adopted it as my first stage name. I also followed some artistes like African LF Ku Jay.
When you started, how did your parents react? Did they encourage you or spite you?
Yes, my dad had problem with me singing, because he wanted me to be in school. To him, I am disobedient. Actually, he enrolled me in a school that I later changed because it was too dull and was not in any way helping me. And that was why I moved to Anglican School in JSS 3. I was an Arts student.
How did you develop your music career?
I used to do backup on stage with some artistes. I follow DJs. I also do 'freestyle', and get people to know me through it. It was when I came to Lagos that I had guitar, and did a lot of practice with it too.
Your music career over the years, what are the basic achievements?

My first achievement was for producing my first track titled
'Gbadun For Your Way'
in a studio in 2010. I was very surprised and happy. After that, I had my first stage performance at Kuramo Beach with the 'Gbadun for your way' track and had some other stage performances. I got encouragements. Then, in 2011, I produced up to 6 tracks to make an album and printed 1250 copies. People gave me N100, N200, to support it. Some gave me N500.
What was your hit track?

In 2011, my hit track was: No be as you think'
After 2011, what else have you done with music?
I was still struggling. I went to Alaba. They told me that I should shoot a video, only after then will they promote me. Through those years, I struggled around to shoot video. I met some artistes along the way who told me I should make another track that will hit the ground. I went again to make another album titled:
Elshaddai.
I went back to Alaba to test it. They liked it, and put it on selection. They collected N10, 000 from me to put it on selection. They also advised me to shoot the music video, that they cannot continue to promote the audio. That is why I struggled in 2013 to shoot the music video. I uploaded it on youtube . I went to TV stations like Silverbird, Sound City. Sound city said because of the quality of my video, they cannot show my video.
Through 2013 to 2014 that the video came out well, I lost my father. So I expended the little proceeds from the video on his burial rites. I then returned to hustle hard so that I can promote the video. That's what I am still doing till now. There is no money. No connection. And no help coming forth.
Why do you think your music is not selling?
I actually think it is the money to promote the music. Because the first person that I introduced my video to said I should bring N100,000 to promote the music. I have never been signed into any record label. Peradventure if I come across anyone that is ready to help me today, there are so many songs that I can sing as I am inspired. I believe I have all it takes because I take up so many styles of music. I do rap, raggae, highlife and freestyle.
If someone is able to take you up now and wants you to go into the music full time, will you leave barbing?
Well barbing is what I cannot leave for now, because if I have money, it is what I want to invest in it. But music is my mission. I suffered for it. It is what brought me to Lagos. Barbing just came in the way because so that I could fend for myself.
Where do you see yourself in the next 5 years? What is your dream?

Wow. That's the essence of my struggle now – to make it. My life won't remain the same, I hope to have my my studio where I can do my recordings.
How do you record now?
I make use of one of customers'studio. He came to barb one day and saw my video. He then said he has a studio that he can help me. Last month, I produced one track.
What do you wish Nigerians or any one with interest to do for you?
I will advise artistes that have made it big to look behind at upcoming artistes and assist them. They should remember where they are coming from and not underrate us – the upcoming artistes.
You favourite music artistes?
I like Olamide, Patoranking, Akon.
On a lighter note, if you and MI stand side by side on stage, do you think you can perform better than he does?
Music is not about boast. It is the fans that will judge. Well, I can try my best.