Former National Security Adviser (NSA) Sambo Dasuki's health is bad, his wife has said, pleading for his freedom.
Mrs Dasuki created a scene at the headquarters of the Department of State Security Service (DSS) on Tuesday night when she begged top officials of the agency not to allow her husband die in custody.
She and other relations had waited patiently for Dasuki to meet the last peg of his bail conditions, a surety with about N250million property.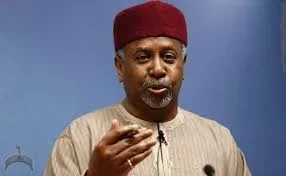 But immediately Dasuki was released at the prison, he was re-arrested by the DSS.
After several hours of trying to locate her husband, she returned to the DSS office and demanded for him or in the alternative, she should be locked up with him.
She reportedly said: "Nigerians should help me beg the Federal Government, the DSS and other agencies to release my husband who did his best to serve this nation. He is ill, he needs medical attention, he is not pretending. I implore the DSS not to allow him to die in custody.
A source said Dasuki's wife was allowed to see her husband.
"We have followed the rule of law , the ex-NSA is in safe custody. He was once in DSS custody and he was never maltreated and he had access to medicare," the source said
- TheNation
[1133]