The Acting Chairman, of the Peoples Democratic Party, Uche Secondus said on Tuesday that the party did not prepare for defeat as it came as a big surprise to us in the last general elections.
It was the first to be suffered by the party, which had been controlling the government at the centre since the country returned to democracy in 1999., he said.
"Apart from losing the Presidential election to the All Progressives Congress, the PDP was also defeated in many states which it had been controlling for 16 years."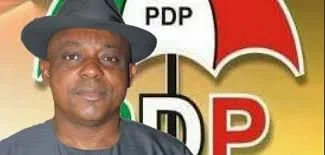 Speaking in his office in Abuja on Tuesday when the Resident Country Director of International Republican Institute, Mr. Senten Barnes, paid him a courtesy call at the party's national secretariat, the Acting Chairman of the now opposition party, Prince Uche Secondus, said the defeat came to the PDP as a surprise.
He said, "We were so used to winning in the past 16 years. We never prepared for defeat and so when it came, we were surprised.
"Now, we should know that money is not everything. Then, we were wrong. Selling of documents (by workers of the party) should stop.
"The party will train members of staff in collaboration with IRI, and our workers must be careful against the sale of documents to outsiders.
"The party must now go to the people. We need serious training and we would work with the IRI for the training."
The chairman also stressed that the era of automatic tickets for aspirants vying for elective positions was over.
Secondus said that the decision to embark on biometric membership registration had shown that the era of few moneybags controlling the party had become a thing of the past.
He urged members to pay their dues as the party leadership had decided to take the PDP back to the people.
PLACE YOUR ADVERT HERE
Connect with Politics News Readers!
[1228]