In a statement issued in Abuja, the Director, Defence Information, Major-General Chris Olukolade maintains that the unfortunate attacks being carried out against troops and innocent civilians by the insurgents will not deter the military in its ongoing onslaught against terrorists in some parts of the country.
According to him, the "terrorists, who move from village to village attacking innocent civilians are those escaping from the onslaught against their makeshift hideout on the border and entry point from neighbouring countries."
"The fighting patrols by air and land are being stepped up in the forests and hills of the affected areas and other parts of the North-East, where the Boko Haram terrorists are hiding.
"The security forces will continue to employ necessary fire power to enhance the effectiveness of the mission until the terrorists are duly curtailed," he said, adding that "locations that are prone to attacks are being reinforced, while the general area is now under heightened surveillance and patrols.
"Some suspected perpetrators of the recent assault have been apprehended and weapons recovered from them."
"The citizens in the affected areas are encouraged to provide security agencies with timely information, so as to forestall the activities of the fleeing terrorists whose attacks on soft targets are intended to provoke fear and create a false sense of invisibility," he said.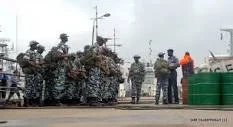 [855]