✅ NEW - get your business listed and your information shared across social media.
Senate President Bukola Saraki on Tuesday read a letter from President Muhammadu Buhari seeking to notify the Senate of his intention to embark on medical leave.
In the letter, President Buhari says Vice President Yemi Osinbajo will "coordinate" the nation's affairs while he is abroad for medical treatment.
The letter states that Vice President Yemi Osinbajo is to "
coordinate the activities of Government"
in his absence in accordance with Section 145(1) of the 1999 Constitution.
But in his old letter transmitted to the Senate in February, the President said the vice President (Osinbajo) will perform the functions of my office.
Nigerians are wondering if the Vice President, Yemi Osinbajo's role has not bee reduced to a coordinator rather than full blown acting President of Nigeria.
In this regards, Senator Mao Ohuabunwa (Abia North )raised a point of order stating that there is nothing as a coordinating Vice President as stated in President's letter.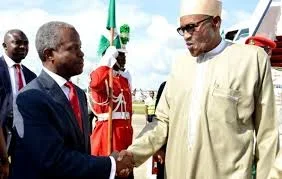 OLD Letter:
According to the letter which was read at plenary by Saraki, President Buhari said he will be away from Monday 23rd January to Monday 6th February.
The letter read,
"In compliance with Section 145 (1) of the 1999 constitution as amended, I wish to inform the Distinguished Senate that I will be away n a short medical vacation from Monday January, 23 to February 6th, 2017 and while I am away, the Vice President (Osinbajo) will perform the functions of my office. "Please, accept, as always assurances of my highest esteemed consideration."