Amid speculations that President Goodluck Jonathan might pick media mogul, Chief Raymond Dokpesi, to succeed his former Chief of Staff, Chief Mike Ogiadomhe, who resigned on Monday, Ijaw leader, Chief Edwin Clark, has advised the president against it.
He said Dokpesi, Chairman of DAAR Communications, owners of African Independent Television (AIT) and Ray Power Radio, was not a suitable choice as Jonathan's chief of staff because of his alleged treacherous character.
His opposition to the consideration of Dokpesi as the next chief of staff to the president came in the wake of wild jubilation in Fugar, the administrative headquarters of Etsako Central Local Government Area of Edo State, following the resignation of Ogiadomhe.
Clark, at a press conference in Kiagbodo, Burutu Local Government Area of Delta State yesterday, said he was opposed to Dokpesi being picked to replace Ogiadomhe.
He also accused Dokpesi of working closely with certain political opponents of Jonathan in the past, saying he could not have had such a sudden integrity somersault to be entrusted with the position.
Click here to read more
Source: Thisday Newspaper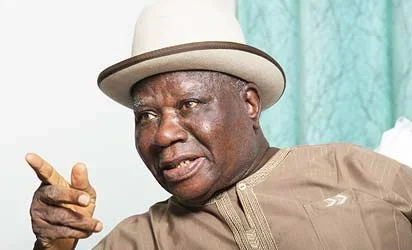 [1642]