The dollar extended its losses against the yen and euro Tuesday as fresh data indicating a slowdown in the US manufacturing sector lowered expectations the Federal Reserve will hike interest rates any time soon.
The greenback was already under pressure against the yen after the Bank of Japan on Thursday refused to expand its stimulus programme despite a string of weak economic indicators and two deadly earthquakes that closed factories.
On Monday a closely watched gauge of US factories for April showed the rate of growth eased, leading to concerns about the state of the world's number one economy.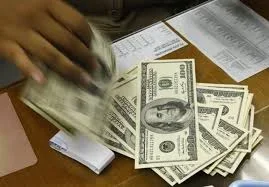 That came after data last week showed consumer spending rose only slightly in April, while the economy expanded slower than expected in the first three months of the year.
The readings mean it is highly unlikely the Fed will hike interest rates at its June policy meeting, while some analysts say September would be the earliest, if at all this year.
On Tuesday in Asia the dollar fell to 106.06 yen at one point before edging up marginally to 106.19 yen, but still well down from the 106.42 yen late in New York.
Meanwhile, the Dollar still maintain its exchange rate against the Nigerian currency at 199 to a Naira while takes back at its comforting zone of 320 to a Naira against 321 its recorded yesterday at the parallel market.
- AFP contributes to this report.