Mild drama on the floor of the House of Representatives on Thursday when two members of the opposition Peoples Democratic Party (PDP) defected to the All Progressives Congress (APC).
Reps Zaphaniah Jisalo from the Federal Capital Territory (FCT) and Ahmed Tijjani from Kogi State, who were hitherto members of the PDP declared their defection to APC on the floor via separate letters read during plenary.
The two lawmakers said the PDP in their various states has been enmeshed in crisis, hence their decision to defect.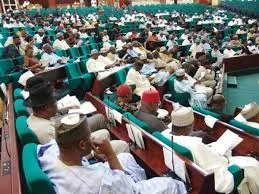 But members of the PDP led by Minority Whip, Yakubu Barde and Ossai Nicholas Ossai, raised points of order, saying the seats of the two defected lawmakers be declared vacant.
In the process of the argument, Deputy Chief Whip, Pally Iriase, jokingly referred to Ossai as a "fake lawyer," a development that led to a rowdy session in the House.
However, Speaker Yakubu Dogara calmed the lawmakers after few minutes.
The speaker also said that the constitution is not specific on the nature of crisis that could be referred to as division in any political party, hence the defections could be said to be right.