President Muhammadu Buhari was voted massively because people believed that life can get better if corruption is eradicated from Nigeria. However, in place of a better life Nigerians are now suffering more than ever. It has become a norm to hear Nigerians say ''Bring back corruption and give me food''.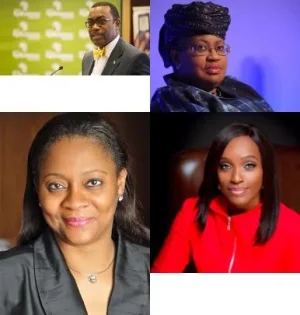 Nigerians are hungry and the cries for food are getting louder by the day. The poor masses are bearing the brunt of the recession that has hit the country. If the tides do not change soon enough, the masses may soon call for the blood of the ruling class. President Buhari needs to act fast if Nigeria must contain this economic recession, it is however sad that the President does not seem to have the required expertise in his cabinet.
Nigeria is blessed with talented and illustrious citizens who can help Buhari weather the storm. Some of Nigeria's best hands served during the last administration and can help Buhari save the country from recession. See list of 4 Yesterday's Men That Can Help Buhari :
1.
Akinwunmi Adesina
Adesina worked as Agriculture minister for the Goodluck Jonathan administartion. He is an agricultural development expert with 24 years of experience in developing and managing successful agricultural programmes across Africa. Forbes described him as ''a man on a mission to help Africa feed itself''.
He introduced more transparency into the supply and distribution of fertiliser and increased Nigeria's grain reseves during his time in office. Buhari needs this man.
2.
Ngozi Okonjo-Iweala
Okonjo-Iweala, Nigeria's former finance Minister is one of the most powerful women in the world. She understands World Bank politics and can help Nigeria get hold of the foreign exchange required to stay afloat.
She was part of the team that convinced the Paris Club to write off Nigeria's debts during the Olusegun Obasanjo administration.
3.
Omobola Johnson
This woman is a silent achiever, she served as Jonathan's Minister of Communication Technology (ComTech). The growing tech hub in Yaba, Lagos which Mark Zuckerberg of Facebook came to visit is thriving today because of her ingenuity.
She also oversaw implementation of policies to enable broadband internet, making Nigeria the first African country to join the A4AI.
4.
Arunma Oteh
Former director-general of the Security Exchange Commission (SEC), and currently vice-president and treasurer of the World Bank. Oteh is one of Nigeria's financial geniuses.
She is particularly committed to ending poverty and raising financially responsible citizens - Nigeria needs her now.
[1012]