The Director-General of the Department of State Services (DSS), Mr. Lawal Daura, and the acting Chairman of the Economic and Financial Crimes Commission (EFCC), Mr. Ibrahim Magu, shunned each other on Thursday when both men appeared at a Senate hearing.
According to Thisday
report
, Daura and Magu did not exchange pleasantries when they both appeared before the Senate ad hoc committee charged with investigating the recent face-off that occurred between the operatives of both agencies, even though the hearing was yet to commence.
The hearing is coming as a result of November 21, 2017 face-off when operatives of the DSS had prevented officials of the EFCC from arresting its former DG, Mr. Ita Ekpenyong, at his Asokoro residence in Abuja.
Officials of the National Intelligence Agency (NIA) also prevented EFCC operatives from arresting the sacked DG of NIA, Mr. Ayo Oke, from his residence in the same neighbourhood.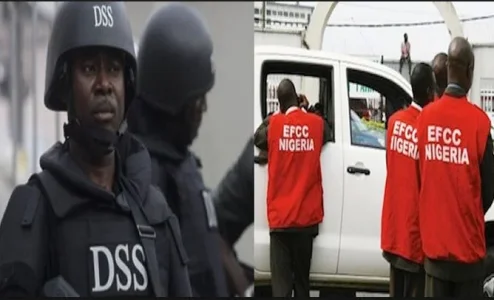 At the venue of the hearing Thursday, Magu and other staff of the EFCC were already seated before Daura walked in at 2.46 p.m., also accompanied by DSS officials.
Maintaining an expressionless facade, Daura took the front seat on the left row from where the EFCC officials were already seated.
The acting head of the NIA also walked in a few minutes later.
Thereafter, the senators and their guests left the hall to another room for the closed-door session on the request of the DSS, Boss, Lawal Daura.
[1553]