The immediate past Minister of the Federal Capital Territory, Alhaji Bala Mohammed, and his son, Shamsudeen, may have lost 10 choice houses and plots of land to the Economic and Financial Crimes Commission (EFCC)
They include three plots of land with development at various stages of completion at No 54 Mike Akhigbe Way, Jabi, Abuja; Plot 2276 Sunrise Estate, Asokoro, Abuja and Plot 1804 Damaturu Crescent, off Ahmadu Bello Way, Garki 11, Abuja; Nos. 1 and 3, Marian Street, Asokoro, Abuja and a twin plaza at Wuse Zone 3 by Tamarak Guest Inn, Abuja.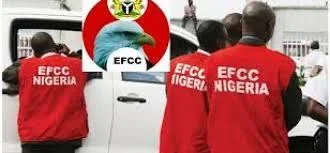 The rest are: No. 7 Gana Street, Maitama, Abuja; an estate and plaza at Dawaki, opposite Gwarinpa, Abuja; an Estate at Jahi District, Abuja; three number duplex Abuja Investment Company Limited Estate, Abuja and a shop at Dubai Market, Kaura District, Abuja.
Head of Media and Publicity of the anti-graft Commission, Mr. Wilson Uwujaren, made the revelation yesterday.
Bala is being prosecuted by the EFCC on a 15-count charge of money laundering to the tune of N1.2 billion and his trial will commence on March 27, 2017.
[4512]