The drama following the attack that saw the escape of several inmates from the Federal Prison Ekiti is one that threatens to surpass the actual attack in terms of intrigue.
The All Progressives Congress (APC) has blamed the governor of Ekiti State, Ayo Fayose, accusing him of complicity after the conflicting reports from him and his media aide, Lere Olayinka.
When the incident happened Fayose blamed prison officials for being in on the break-in, but Olayinka blamed the APC as having masterminded the attack to free Niyi Adedipe, who was in prison for the alleged murder of the leader of driver's union, Omolafe Aderiye.
Add to that the recent report that four of the escaped prisoners are now in the Government House, and the APC is now crying murder, saying the Monday incident was carried out by Fayose to free the criminals friendly to his rule to relaunch them against his opponents.
The party says "If the jailbreak was an attempt by APC to free Adedipe, why did Adedipe report himself to the police and subsequently surrendered himself to the prisons authorities without being declared wanted? If the jailbreak is to kill Niyi Adedipe, as alleged by Lere Olayinka, Why was he not killed?
"We are not surprised that the local content of this crime ring is being re-activated by releasing them from jail for maximum results and we are calling the attention of Nigerians and lovers of peace and security around the world that the merchants of death are back in Ekiti State to terrorise the people of Ekiti State.
"We can now see why security vote for security agents to fight crimes has been reduced while personal security vote for the governor has doubled.
"We urge the security agents to comb the Presidential lodge of the Government House to re-arrest the escapees quartered there."
Source: #Vanguard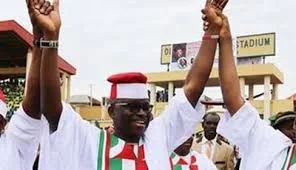 [2497]