The former secretary of the Peoples Democratic Party (PDP) in Ekiti state, Dr. Temitope Aluko, has said he is not aware of arrest warrant issued against him by an Ado Ekiti Chief Magistrate's Court or any court for alleged perjury.
According to The Nation Newspaper, Aluko, who uncovered the alleged rigging of the 2014 governorship election in Ekiti state on a national television last weekend said he was not in court and not aware of any court order.
"The rushing of the governor of Ekiti, Ayodele Fayose and his cronies to court was part of their plan to bring him down and poison him", he said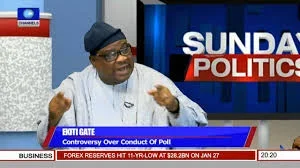 He claimed that they had made attempts on his life in the last 96 hours and the arrest warrant was another one of their plots.
"Nigerians should know that these people are just attacking the messenger they are not addressing the message.
"So, I stand by what I said. I don't know why they are making attempts on my life. By their rushing to the Magistrate's Court, it is still part of their funny doings.
"I have nothing to be afraid of as a patriotic Nigerian, I owe it a duty to tell Nigerians what transpired so that we can deepen our democratic structures. I am not aware of any warrant of arrest.