✅ NEW - car park, swimming pool, 24 hours light/security and more.
More details of the trouble in Nollywood Actress, Mercy Aigbe's home have emerged.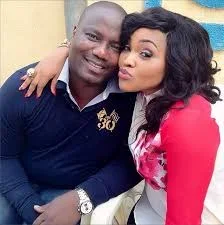 NET reports that sources close to the family have revealed that the marriage of Mercy, 38, and her 50-year-old husband, Lanre Gentry, was destined to crash. Both parties [Mercy and Husband, Lanre Gentry] constantly cheat on each other.
A source close to the family who spoke anonymously said, 'The marriage was destined to break',
'Mercy Aigbe has been promiscuous all through the marriage and this has caused a strain between them since the beginning.
'Some of us have always known that this would happen someday. A married woman cannot be sleeping about like that. A lot of people thought that after she remarried, she would have calmed down.'
'Where do you think she gets all her money from, movies? How much do Nigerian actresses make for their movie roles? If you compare it with their luxurious lifestyle, you'll see that it doesn't add up.'
'Let me give you an example: for someone who likes to travel as much as she does, each trip she takes outside the country takes nothing less than N3million. Take a look at her Instagram posts. She always flies business class. The cheapest amount you can get a business class ticket to Dubai is N900,000. Don't you see the pictures she posts online? Mr Gentry simply does not have the funds to foot that bill multiple times a year.'
The source went on to say that notable politicians pay Mercy Aigbe for sexual adventures.
'These are the people that help Mercy maintain the facade of being an A-lister'.
On Gentry, the source said, he has also been a philanderer whose life of indiscretion was well known to his wife. He has a penchant for young girls and his Oregun hotel, Laveronique was a rendezvous of sorts for his flirtations.
'The man has a hotel where Lagos-based actors and actresses use to shoot their movies, but the business was mismanaged and nobody goes there anymore.
'As of now, he doesn't have any business going on for him. How many wide-mouthed actresses can live with that type of hopelessness? The situation has gotten so bad that now Mercy can openly cavort with the politicians that have been on her case since. I'm sure that in no time, her shop in Omole will be shifted to Lekki as she has always dreamed of,''the source said.
What put a final nail in the coffin to the marriage was her husband's flirtation and affair with Opemititi, a very close associate to Mercy.