✅ NEW - get your business listed and your information shared across social media.
Former Minister of Aviation and 2015 campaign manager of Goodluck/Sambo Presidential team, Femi Fani-Kayode has listed three evil genius that made the former President lost bid for re-election.
Fani-Kayode on his social media account collaborated former President Goodluck Jonathan's stand on Adamu Muazu betraying the party during the 2015 president campaign.
He said: "That Mauzu betrayed us during the 2015 pres. campaign and that Jega was working for @MBuhari is not news.
"The biggest secret and greatest traitor of them all was the man that brought both Mauzu and Jega to do a dirty job and sabotage our efforts. His name was Hassan Tukur.
"He is an evil genius. His treachery and collusion with the APC cost us the 2015 election and opened the door for Buhari. God will judge him".
Hassan Tukur, was the principal secretary to former President Goodluck Jonathan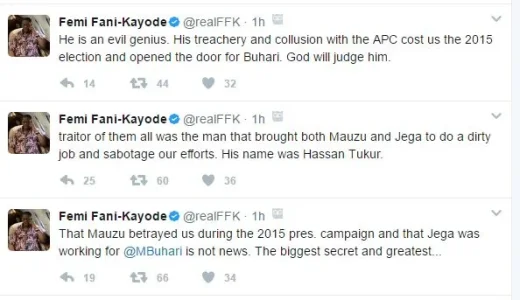 Former President Goodluck Jonathan allegedly expressed disappointment over the handling of the 2015 elections by Attahiru Jega, former chairman of the Independent National Electoral Commission (INEC).
Quoting Jonathan, Adeniyi in his new book titled, 'Against the Run of Play' wrote, "I was disappointed by Jega because I still cannot understand what was propelling him to act the way he did in the weeks preceding the election."
Related:
2015 Elections: Jega Disappointed Me – GEJ