✅ NEW - get your business listed and your information shared across social media.
Former Aviation Minister Femi Olu-Kayode has written President Mohammadu Buhari an open letter on the war against Boko Haram activities in the country.
Read below:
Mr. President, as one of your most loyal and faithful subjects who has nothing but the utmost respect for your person and your office, I am constrained to write you this open letter. This is because there are a number of issues that I believe that it is important for you to clarify and to come clean on.
I say this because some of your assertions of late are at best contradictory and at worst patently dishonest. Whichever side of the political divide we are on I believe that we can all agree on one thing: that the prosecution of the war against terror is not something that any of us should play politics with. This is especially so given the fact that human lives are at stake and the very existence of our nation is under threat. Like much of the rest of the world our country is going through hell at the hands of the jihadists and Islamist terrorists.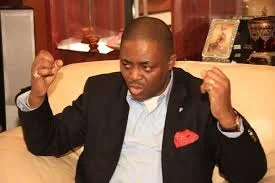 There is no gainsaying that we must all come to terms with the fact that the Islamic State in the Levant (ISIL), Al Qaeda, the Taliban, Al Shabab, Boko Haram, Hamas and another group that the internationally-respected Global Terror Index has described as the ''Fulani militants'' (aka Fulani herdsmen) are nothing but bloodthirsty murderers and the lowest form of life.
They are indeed the scum of the earth, the troublers of humanity and the vermin of hell. It is with this in mind that I urge you to take the war against terror far more seriously than you are doing and plead with you to stop passing the buck.
Your penchant for blaming your failings in this regard on the previous administration is simply nauseating and it does not serve you well.
You continuously contradict yourself when it comes to this matter and frankly such flip flops are unworthy of the office that you presently occupy.
We your subjects look up to you for consistency, strength, unequivocal commitment, a firm resolve and the ''leadership from the front'' that you promised during your presidential campaign in this war. We do not want and neither do we need doublespeak, lame excuses and buck passing.
Permit me to point out a few examples of your contradictory assertions and your buck passing in this short intervention. Initially you claimed that your predecessor in office President Goodluck Jonathan never bought any arms and that instead he squandered and stole all the money that was appropriated for the procurement of arms.
Continue reading
Last edited: