Ekiti State Governor, Ayo Fayose has called on the Ooni of Ife, Oba Adeyeye Ogunwusi, to protect Yoruba leaders.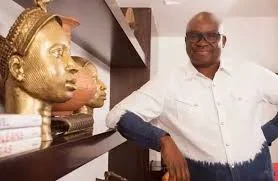 Fayose made the call while receiving the Ooni at the palace of the Ewi of Ado Ekiti, Oba Rufus Adejugbe; PUNCH reports.
He said, "You (Ooni) are in a good position to unite us. We want to appeal to you to remember that we all belong to you, irrespective of political parties.
"That was why I said without apologies that an action against Ahmed Tinubu is an action against the Yoruba nation.
"We must defend the Yoruba nation. They are encroaching. They are harassing; they are depriving us of our legitimate rights. Those who toiled day and night are now victims of circumstances.
"Nothing must happen to Tinubu, Falae and others. This is the way they started with (Obafemi) Awolowo and (Pa Michael) Ajasin," he cautioned.
Tinubu is believed to have fallen out of favour with President Muhammad Buhari while Falae is under investigation by the EFCC.
PLACE YOUR ADVERT HERE
Connect with Politics News Readers!
[1634]