✅ NEW - get your business listed and your information shared across social media.
Ekiti State Governor, Ayo Fayose has condemned the recent arrest of Former Jigawa State Governor, Sule Lamido and continued detention of former Benue State Governor, Benue Suswam.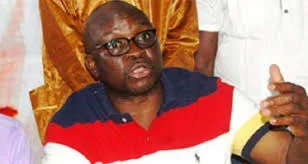 In a statement released in Ado Ekiti today and signed by the Special Assistant to the governor on Public Communications and New Media, Lere Olayinka, Fayose called on the international community and the media to save democracy in Nigeria .
He said, ''It appears that the cabal in the APC led government that is holding Nigerians to ransom want their candidate to contest the 2019 election unopposed. Obviously, that is the reason for the arrest and detention of former Governor of Niger State, Dr Babangida Aliyu and Alhaji Lamido who have shown interest in the presidency."
He described the arrest and detention as childish and ridiculous, saying;"If a former governor is arrested and incarcerated for what they called incitement, what should the police have done to those Fulani herdsmen that have killed thousands of Nigerians across the country? With the arrest of Alhaji Lamido, the detention of former Governor of Benue State, Gabriel Suswan since February this year and the arrest and detention of Dr Babangida Aliyu, it is becoming clearer that these APC people will only contest election against themselves in 2019.
''It will even be unnecessary to continue to fund the Independent National Electoral Commission (INEC) since they don't want anyone to contest the 2019 presidential election against their party. The APC cabal can as well proscribe INEC and declare their party the perpetual ruler of Nigeria instead of wasting money on conduct of elections."
"That the police claimed Alhaji Lamido was arrested for allegedly inciting his supporters to go violent if the results of the local government elections fixed for July 1, 2017 is to say the least irresponsible and ludicrous. How can you arrest someone in April because of an election slated for July and keep the person in detention for the past 24 hours?
''Is it not even laughable that the APC government in Jigawa State is so afraid of allowing the people the freedom to participate in an election to be conducted by the State government itself such that it opted for the arrest and detention of a former governor of the State more than two months to the elections?"
"Rt. Hon. Gabriel Suswan has been in the custody of the Department of State Services (DSS) and the DSS reason for keeping him in detention since February is that he has failed to cooperate with investigators. The question is; what cooperation does the DSS need from someone that will require him being kept in detention for close to two months?"
"Nigerians will resist any attempt to foist a one party State on the country and no matter how tyrannical the APC chooses to become, Nigeria will overcome its tyranny just like the country survived past tyrannical governments."