✅ NEW - car park, swimming pool, 24 hours light/security and more.
Ekiti State Governor, Ayo Fayose on Monday evening reacted to President Muhammadu Buhari's resumption.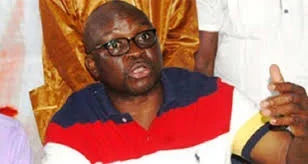 In a statement by his Chief Press Secretary, Idowu Adelusi, Fayose said the country progressed during Buhari's absence. "While you were away, peace returned to the Niger Delta, impacting positively on crude oil production and sales. The economy also improved with the appreciation of the Naira. Now that you are back, it will not be right to put the country on the reverse gear again through some pig-headed policies and truculent, militarist posturing.
"You have received the mercy and favour of God. You have come back from medical vacation alive. By what people had said and by your own account, it is the mercy and favour of God that have seen you through as well as the prayers of everyone.
"It is incumbent on you to now also show mercy. I advise you to show mercy to Nnamdi Kanu and Sambo Dasuki and such other Nigerians that are suffering unjust, punitive, illegal, and unconstitutional incarceration under your directive or administration.
"Allow all those who have been granted bail by the court to enjoy their bail while their trial continues. This is the right, just, and merciful thing to do. To continue to disdain the court is reckless and unconstitutional. Moreover, it is a sin and it is oppressive.
"God is not happy at the oppression of the poor by the rich and of the weak by the strong. Those of us in authority must not use our God-given powers to oppress the citizens placed under our charge. Only righteousness exalts a nation, Sin is a reproach and God is continually angry with the wicked. It is wickedness to refuse to obey court orders and trample upon the constitutional and God-given, fundamental human rights of citizens", he said.