✅ NEW - get your business listed and your information shared across social media.
The Ekiti State chapter of the All Progressives Congress (APC) has told the state Governor, Ayodele Fayose, that it would have his days in the courts over fabricated figures on the state's debts to deceive the people and paint former Governor, Kayode Fayemi, in bad light.
Reacting to the claims by Fayose's media aide, Lere Olayinka, that Fayemi plunged the state into debts without any commensurate development projects to show for it, the party's Publicity Secretary, Taiwo Olatunbosun, said in a statement that it was only the blind that would not see various development projects executed by the former governor.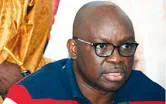 "Fayemi did not borrow to pay salary. He received awards from many international bodies, including the United Nations' agency and top Nigerians, for the feats he recorded in development projects, the last being the award for the state that led in budget transparency among other states in Nigeria that Fayose tried to usurp.
"Fayose lied that Fayemi at a point, collected N9 billion as monthly federal allocation. The records are there that the state monthly share of federal allocation remained N2.8 billion throughout and the biggest being N3.2 billion when excess crude oil fund was shared among the states.
"The former governor owed one month salary, and that was September 2014, and this was as a result of Fayose as governor-elect writing the banks not to honour Fayemi's credit facility to pay workers salary and pay the banks back after receiving the allocation for the month in question," Olatunbosun explained.
He added: "Fayemi paid N2.2 billion monthly for salaries, pensions and subventions to higher institutions throughout his tenure.
Thisday