✅ NEW - get your business listed and your information shared across social media.
Palpable fear gripped over 100 passengers on board a DANA Air MD 83 aircraft on Friday when a huge bird hit the aircraft engine during take-off at the Murtala Muhammed International Airport, Ikeja, Lagos.
Sensing danger after the bird hit the aircraft engine, the pilot took the professional decision to discontinue the flight by making an air return.
Confirming the development, the spokesman of DANA Air, Kingsley Ezenwa, said, " On 21st of April, one of our aircrafts with registration number 5N-SRI operating our 11:00 a.m. flight from Lagos to Port Harcourt, had an air return due to bird strike during take-off from Lagos, and our captain took a professional decision and returned to the Lagos airport.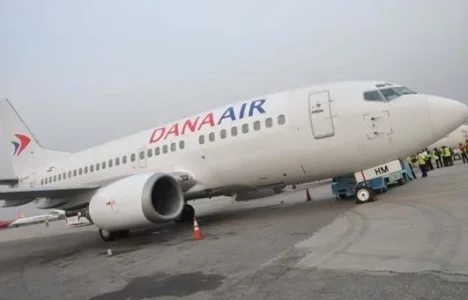 "A bird strike is a collision between a bird and an aircraft which is airborne and as per standard safety procedure, which is the hallmark of our operation, our pilot returned to base.
"Our passengers have however been 'reprotected' on another aircraft to ensure that their itinerary is not entirely disrupted. The aircraft is currently being evaluated by our engineers to determine the effect of the bird strike on the affected engine.
"At Dana Air, the safety and comfort of our passengers will remain a top priority to us and we will stop at nothing in our commitment towards offering a safe and reliable air transportation."