The Nigeria Security and Civil Defence Corps, NSCDC, has decried high rate of street begging among Internally Displaced Persons, IDPs, in Borno and vowed to end it.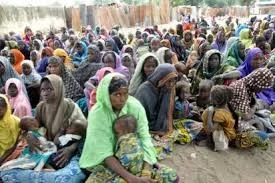 The state Commandant of NSCDC, Alhaji Abdullahi Ibrahim stated this in an interview with the News Agency of Nigeria, NAN, on Wednesday in Maiduguri.
Ibrahim said that many IDPs, especially those taking refuge with people in host communities, had taken to begging on the streets.
"This poses danger to motorists and the beggars who can be killed or maimed by accident and even be kidnapped or infiltrated by the insurgents.
"They are also exposed to different health hazards because the beggars, mostly aged between four and seven, spend their whole day on the streets in rain and sun.
"If the ugly trend is not checked, it will encourage even the IDPs that have been relocated to liberated communities to come back and engage in begging,'' he said.
The commandant appealed to the residents of the host communities to help in checking the ugly trend before it gets out of hand.
NAN
[716]