A former governor of Zamfara State, Alhaji Mahmuda Shinkafi, has joined the All Progressives Congress (APC).
He picked his membership card at the party's secretariat in Gusau, the state capital, on Thursday.
Shinkafi, who was accompanied to the venue by party supporters, was received by the state's Deputy Governor, Malam Ibrahim Wakkala on behalf of Governor Abdul'Aziz Yari.
In his remark, Shinkafi promised to work for the development of the party, not only at the state level but the country as a whole.
"My coming to APC is home coming for me, because I left it before and now I am back home to my brothers and sisters. Together we are going to work for the party to become stronger and the party to beat in the state," he said.
Deputy governor, Wakkala described the return of Shinkafi as a `boost' to the APC in the state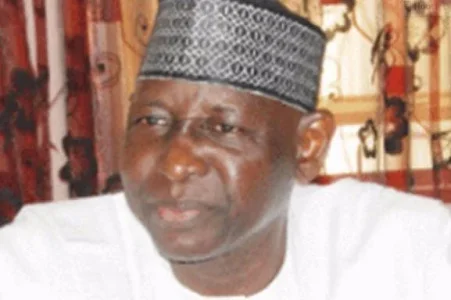 "It is not a matter of coming back but it is a return to the fold of Yarimawa. Together we are going to build the APC to become more vibrant and a viable political party in the state and country," he said.
Shinkafi was a deputy governor to the first Zamfara civilian governor, Alhaji Ahmad Sani for eight years under the platform of the All Nigerian Peoples Party (ANPP).
He later became the governor of the state in 2007 in the same party before defecting to the People Democratic Party (PDP) in 2008, after being elected as the governor in 2007.
Shinkafi contested for governor as PDP candidate in 2011 and 2015 losing at both times to the incumbent Abdul'Aziz Yari of the APC.