The Chairman of the Nigerian Labour Congress (NLC), Mr Ayuba Wabba, says the NLC will continue to negotiate with the Federal Government over its opposition to the hike in the pump price of petrol.
Wabba while speaking on Channels Television's Sunrise Daily on Monday,noted the following points;
- the tradition of the NLC is to continue to dialogue on issues that it is passionate about, especially the increase in electricity tariff and pump price of petrol.
- Wabba reiterated that the strike was suspended due to the intervention of well-meaning Nigerians including the national leader of the All Progressives Congress (APC), Senator Bola Tinubu and the National Assembly.
- He did not give an assurance that all matters would be resolved, but promised that the union would indeed resume negotiations with the government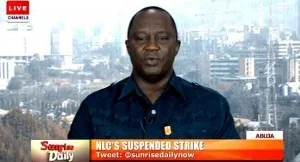 - He said: "Our standpoint is clear and unambiguous, we believe that it is not sustainable and it will be at a very high cost to continue to over-rely on importation of this product that God has blessed Nigeria with".
- NLC had a documented written agreement with government where they requested for a full-year monitoring period within which to ensure that the issue of importing products will be addressed, but here we are, many years down the line we are still at the same point.
The labour union, had on Sunday evening suspended an industrial action it called on Wednesday, May 18 to resist the new price of petrol.
Source: Channels Television, Sunrise Daily.