Kaduna State governor, Nasiru el-Rufai has set up a committee to restructure the 32 emirates and chiefdoms in the state, Daily Trust cited government documents.
The restructuring move, according to the newspaper will affect about 13 chiefdoms and emirates, mostly in central and southern parts of the state, will be renamed.
In June, the state government had sacked 313 districts and 4,453 village heads, in an attempt to cut down the financial burden on the local government councils.
The state, therefore, reverted to 77 districts and 1,429 village units that existed before 2001, when the traditional institution was deregulated by Governor Mohammed Makarfi administration.
Some of the affected district heads have already instituted legal actions challenging the state government's action.
The 32 chiefdoms and emirates in Kaduna State, comprises 10 first-class status, nine second-class and 13 third class.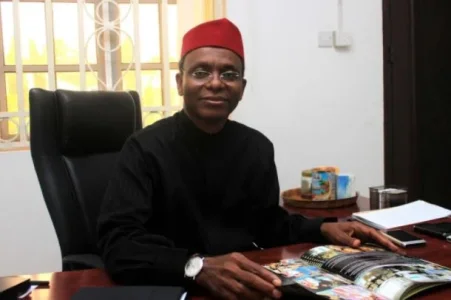 The state Commissioner for Local Government Affairs, Jafaru Ibrahim Sani, however, told Daily Trust that no emirate or chiefdom will be scrapped or merged, as speculated in some quarters.
"The ongoing restructuring has nothing to do with the number of the chiefdoms and emirates. There won't be a merger of any chiefdom or emirate. Governor El-Rufai has accepted the 32 chiefdoms and emirates he inherited."
Official documents analysed by this newspaper show that the 13-member committee has six months to complete its assignment. But the committee's lifespan which expired last week was given additional one week to complete its assignment.
- Read more
[2838]