Governor Ayodele Fayose of Ekiti State on Monday forced Access Bank to shut down its operations in the state.
Mr. Fayose's extraordinary action came after bank officials prevented the wife of the former Aviation Minister, Femi Fani-Kayode, from drawing funds from the flagged account.
Mr. Fani-Kayode's wife was said to have arrived in Ekiti and attempted to withdraw funds from an account linked to slush provided by detained former National Security Adviser, Dasuki. The account is part of the subject of the former Aviation minister's ongoing prosecution for fraud at a Federal High Court in Lagos, Sahara Reporters gathered.
Security officials concluded that an account opened at Access Bank by one "Sonia Chikwendu Precious," with account number 0024425113, was linked to money laundering. The account was flagged after security and anti-corruption agents determined that it was one of the several accounts into which another former minister, Esther Usman Nenadi, paid illicit funds.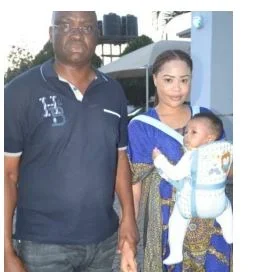 In his
response
,
Fani-Kayode in an angry-laden tone accused the government of being sick and cowardly as the EFCC.
It would be recalled that Mr. Fani-Kayode in 2007 allegedly used a girlfriend of his Chioma Anasoh to launder money, specifically on June 27th, 2007 Chioma was arrested with $240,000 said to be cash belonging to Fani-Kayode.
She was arrested after boarding a plane to travel on a British Airways flight to London from the Nnamdi Azikiwe International Airport in Abuja.
Related: Fani-Kayode's Son and Wife Pictured With Fayose After EFCC Arrest
[5648]