Delta state governor, Senator Ifeanyi Arthur Okowa, has felicitated with former president of Nigeria, chief Olusegun Obasanjo, as he turns 79 years.
Governor Ifeanyi Okowa wished former president Olusegun Obasanjo well at 79.
In a statement issued by his chief press secretary, Charles Ehiedu Aniagwu, Okowa prayed for the continued grace of good health and mind for chief Obasanjo.
"Chief Obasanjo, undoubtedly, exudes an inspiration very much needed at this stage of Nigeria's socio-political and economic development and it is not for nothing that God has kept him as one of Nigeria's guides," Okowa said.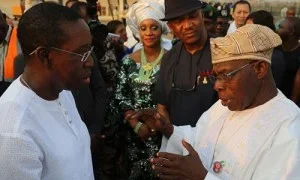 Okowa, who observed that chief Obasanjo does not beg issues said Nigeria needs such forthright leader, at all levels, if the country will see itself out of the woods of its myriad of challenges.
He recounted chief Obasanjo's bold developmental legacies that dotted the Nigerian landscape from his days as a military head of state and as the civilian president between 1999 and 2007 and charged current leaders, both at the federal and state levels to buy into the elder statesman's philosophy.
"Dear Chief Obasanjo, the remarkable achievements of your first and second sojourns as President of the Federal Republic of Nigeria are indelible in the Oil & Gas, Steel, Banking as well as the Communication Sectors of the Nigeria Economy", he wrote.
[1278]