✅ NEW - car park, swimming pool, 24 hours light/security and more.
Foremost financial institution, Guaranty Trust Bank Plc, has extended its annual One-on-One consultation for children with Autism and other developmental difficulties to Ogun State.
The five day programme, which is free and open to the general public, began on Monday 25th April, 2016 at the June 12 Cultural Centre, Kuto, in Abeokuta, the state capital with the theme "Managing Autism: The Next Generation, Consideration and Resources".
The One-on-One consultation features specialists from Nigeria and the United States of America offering consulting services ranging from the assessment of children for Autism and other developmental challenges to the counselling of their parents. Other specialized consultation services include; Speech Therapy, Physical Therapy, Behaviour Analysis, Audiology, Clinical Psychology, Developmental Psychiatry, Physiotherapy, and Occupational Therapy.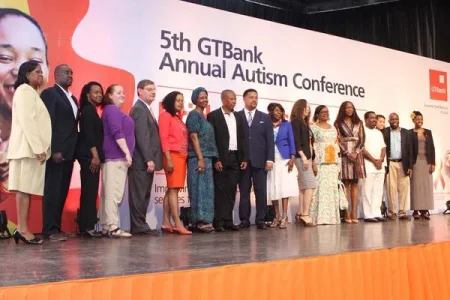 The annual one-on-one consultation has been held in Lagos since 2009 as part of the GTBank Orange Ribbon Initiative, an advocacy program designed to support children with developmental disabilities in Nigeria especially Autism Spectrum Disorders (ASD). Over the years, the programme has attended to hundreds of children with varying degrees of developmental disabilities and provided crucial support to their parents. Its commencement in Ogun State has been well received by the public and gained the support of governmental institutions and non-governmental organizations.
Commenting on the expansion of the One-on-One consultation to Ogun State, Mr Segun Agbaje, the Managing Director and Chief Executive Officer of Guaranty Trust Bank plc, said; "We are succeeding in our goal of amplifying the national awareness of Autism Spectrum Disorder and increasing the expert assistance available to people living with this condition.
He added that "As a bank committed to driving community development, our goal is to help achieve a society where all children achieve the fullness of their potential irrespective of developmental challenges."
Guaranty Trust Bank plc is one of the few Nigerian financial institutions that have maintained a defined Corporate Social Responsibility (CSR) strategy since its inception in 1990 by supporting numerous programmes that positively affect Infants and Maternal Healthcare, Education, the Art, Community Development and the Environment across Africa