The governor of Borno State, Kashim Shettima, has explained his predecessor, Ali Sheriff escalate of Boko Haram insurgency in the North-east.
Mr. Shettima, who stated this on Monday at the annual lecture in honour of late Head of State, Murtala Mohammed in Abuja, said he was responding to a "political statement" by Mr. Sheriff in which he said Boko Haram did not hold any territory in Borno when he handed over power.
The governor, who delivered a paper "Managing the Boko Haram crisis in Borno state, experiences and lessons for a multi party, multi ethnic and multi religious Nigeria", said Boko Haram leader, Mohammed Yusuf, took advantage of Mr. Sheriff's failure to provide leadership to declare a jihad.
"The fact is that Sheriff allowed his ego to overcome his action and failed to settle the differences between armed forces and members of Yusuffiya movement at the time," he said.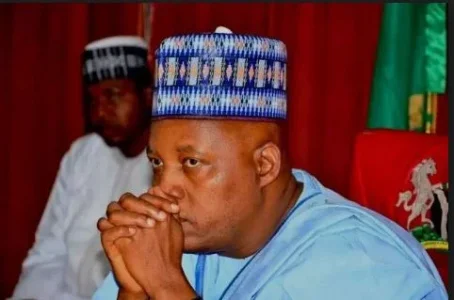 The governor recalled that he was aware the late Boko Haram leader, Mr. Yusuf, was a constant critic of the Sheriff administration.
"A governor should have at least visited victims of the shooting to lay foundation for peace and he should have set up a commission of inquiry just like what Governor El Rufai did in Kaduna recently," he said.
"He chose to mismanage the incident. He did not send anyone or settle the medical bill of anyone and he played into their hands. That gave Yusuf an opening to declare jihad."
Mr. Sherrif has repeatedly been accused of being a Boko Haram sponsor. He denies the allegation.
Source: Premium Times
[2129]