✅ NEW - get your business listed and your information shared across social media.
After several days of relentless efforts to track down Kano State Governor Abdullahi Ganduje, five Northern Governors managed at the weekend to broker peace between the Kano State Government and Emir of Kano Muhammadu Sanusi II.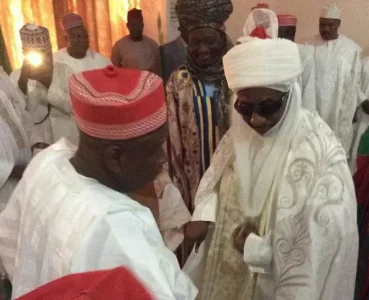 The governor and the emir have been embroiled in a proxy war for many weeks, with the state government's anti-corruption agency launching a probe of Kano Emirate Council finances in apparent retaliation for Emir Sanusi's open criticism of the governor's top project priorities.
Daily Trust on Sunday learnt from impeccable sources that Governors Aminu Waziri Tambuwal of Sokoto, Nasiru El-Rufa'i of Kaduna, Kashim Shettima of Borno, Aminu Masari of Katsina and Abubakar Sani Bello of Niger brokered the peace meeting in Kaduna on Friday night with Governor Ganduje and the Emir also in attendance.
The meeting held at the Government House in Kaduna and was first attended by the Emir and the Governors before they were joined by some senior officials from the Kano State Government and the Emirate Council.
Governors Tambuwal, Shettima and El-Rufa'i had earlier met with Ganduje in Abuja on Thursday night before resolving to invite the Emir to Kaduna the following day since all parties were planning to be in Kaduna on Friday ahead of a wedding involving a nephew of President Muhammadu Buhari who is close to most APC chieftains.
The wedding took place on Saturday with the Emir seated next to Ganduje at one of the wedding events. They chatted amiably and also walked out of the hall together in an apparent show of reconciliation.
Daily Trust on Sunday learnt that in took days before the mediating governors were able to track down Ganduje as the Kano Governor switched off his telephone lines and made himself unreachable. The governors finally got through to him and Ganduje arrived in Lagos on Thursday from China, from where he headed to Abuja to meet his colleagues.
Sources said Governor Tambuwal was the one that first identified governors with close relationships to both the Emir and Ganduje and he mobilized the two meetings even though all the governors, particularly El-Rufa'i and Shettima showed keen interest in resolving the matter given their individual friendship with the Emir.
Daily Trust on Sunday further learnt that Ganduje's top associates advocated that Emir Sanusi should be deposed but that the five Northern Governors who met with Ganduje managed to persuade him to drop the idea after the Emir apologised for his conduct.
Sources said Ganduje found it difficult to ignore his colleagues' appeal partly because he might need their solidarity in battling his estranged godfather, Senator Rabiu Musa Kwankwaso ahead of the 2019 general elections. Unless reconciliation is effected, Ganduje is expected to meet stiff opposition in his re-election bid from the powerful Kwankwasiyya movement both at the APC primaries and in the general election.