✅ NEW - car park, swimming pool, 24 hours light/security and more.
Ibrahim Magu, the Acting Chairman of EFCC today appeared before the senate a second time for confirmation and chairman.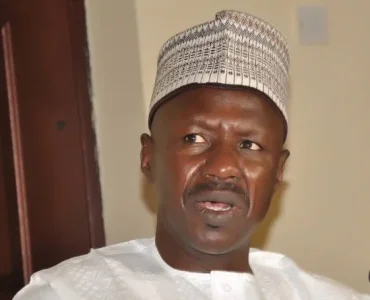 Read questions fired at him here:
9 Questions That Disqualified Magu at The Senate Today
Magu went through a series of questioning in which he responded to.
Below are his responses:
1. How will EFCC under Magu fight corruption within the law – Ike Ekweremadu\
- Magu says the EFCC is not always right on its decisions, but the agency strive to do its best.
2. Ekweremadu also asked about the operations of the EFCC on disobeying court orders and cases of human rights abuse and asked Magu to respond the last DSS report.
- Magu said he did not come with the DSS report on the investigation carried out.
3. You need to expantiate on your activities on human rights, What are your findings and activities on the Paris Club fund"- Sen. Shehu Sani
- Magu said an human right activists said EFCC cells are like hotels and there is too much comfort.
4. Dasuki took money illegally and not a single person from the CBN has been investigated or prosecuted so far" – Sen Isah Misa
- Magu responded that EFCC has invited all who needs to be invited.
5. Why is Central Bank Governor who released money to not being investigated by EFCC – Sen Isah Misau
- Magu said no body language in the fight against corruption. He said the commitment of President Buhari to the fight against corruption not in doubt
6. How much funds has been recovered since you took charge of the commission. - Sen. Duro Faseyi.
- Magu: It is very difficult for me to say.
7. What led to the death of Mr. Desmond and why was the body was taken to the mortuary before contacting the family. -Sen.Ben Ajumogobia.
Other responses:
- On the house bought for him, he said he only stayed there because of its close proximity to work and to avoid late night movement.
- Magu said EFCC doesn't fight corruption alone that he is aware that the Senate fights corruption as well.
- Magu said Deizani went 2 London with her clique that perpetuated the crime to defraud Nigeria. That they are on the run and he will get them
- He said they are still fine tuning the whitlse blowers act.
- - Magu said he will not be surprised if whitlse blowers are to take the security agents to his house because he now has a big house
- Ibrahim Magu said two reports were submitted in one day about him and that questions the integrity of the DSS as well.
- "Myself and Dino Melaye have been fighting corruption before he became a Senator" - Ibrahim