✅ NEW - get your business listed and your information shared across social media.
One Idris Samaila has slaughtered his three children - Shamsudeen (7), Fatihu (4) and Sherifat, (5 months) in their sleep minutes after his wife left their hut to ease herself in Goru village in Kebbi state.
When Daily Trust visited Samaila's wife Nafisat, who is still in shock, she narrated how it all happened. "I went to ease myself. The children were sleeping so I left them with him. When I returned, I was shocked to find them dead; their father had slaughtered them.
Nafisa said after her husband killed the children, he ran away.
Nafisa told Daily Trust that she has been married to Samaila for almost a decade. "We didn't quarrel, so I'm confused."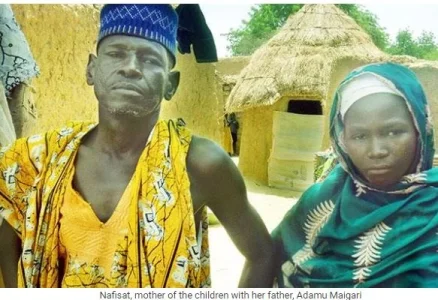 She admitted, however, that he would sometimes act unusual, as if mentally ill. "But it didn't bother me, and I didn't tell my parents about it because he had never hurt me. Anytime his behaviour starts, he takes his drugs and becomes normal again."
Yahya Samaila, elder brother to Nafisa's husband, told Daily Trust that after he committed the heinous crime, he ran out of the compound and jumped into a deep well at the centre of Goru village.
The police took him away, first to Yeldu and later to Kangiwa. "But he is now at the psychiatric hospital in Jega," his brother said, adding that he has never been known to be violent.
Source: Dailytrust