✅ NEW - get your business listed and your information shared across social media.
Popular Nigerian cleric, Temitope Balogun Joshua has in a video, claimed that he predicted the victory of Emmanuel Macron as the French President in last weekend's elections. Joshua maintained this during a live service at his church, Synagogue Church Of All Nations (SCOAN) on Sunday. May 7.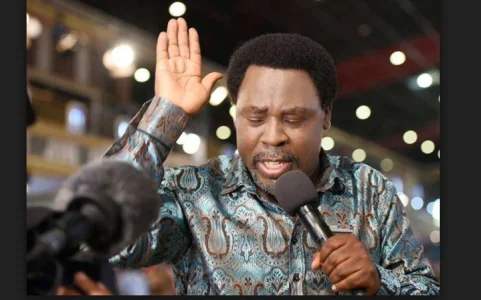 "In Jesus Christ's name we pray. Give thanks to God. There is so much uproar in the French speaking country. We look at the two candidates. For me, [I consider] immigrants, refugees – because my Father in Heaven was once a refugee too. So, we pray for any one of them who supports refugees – like Emmanuel Macron. We are praying for him and our prayer will answer!
It is prayer that will put him there, not anything – because of his heart for refugees and immigrants. Half of this world are immigrants and refugees. Where will they go? I am not a politician. I pray every day for Emmanuel Macron because of what he believes. What he believes is what my Father in Heaven believes.
We will see what we can do to protect these refugees and immigrants. For many of them, it is not their will to leave their country; it is war. When there is war, you run helter-skelter – anywhere you know you can run to. We know there are some bad people among the refugees. But we cannot say because there are some bad people that we reject all of them. No. I am not saying you should pray for him. Me – I am praying for him, Emmanuel Macron, because of what he believes. I listened to his profile – his belief about refugees and immigrants. Today is declaration. We are not playing politics in the Church."
SEE VIDEO: