✅ NEW - get your business listed and your information shared across social media.
Former Aviation Minister, Femi Fani-Kayode has revealed details surrounding the visitation of the United States Secretary of States, John Kerry to the Fulani Caliphate.
Fani-Kayode in his latest article, titled:
"John Kerry's Unadulterated Garbage and His New-Found Friend
s", said the essence of the visitation is to perfect deals about making Nigeria an Islamic state.
In the article, he listed the surprising things that happened during the visitation, which are Kerry's first meeting that he had was with the Sultan of Sokoto, who is the supreme leader of the Fulani Caliphate, the spiritual leader of all the Muslims of the north and the man who said, only last week, that "Christians commit wicked acts and crimes against humanity" and that "the wearing of the hijab is the right of every Muslim".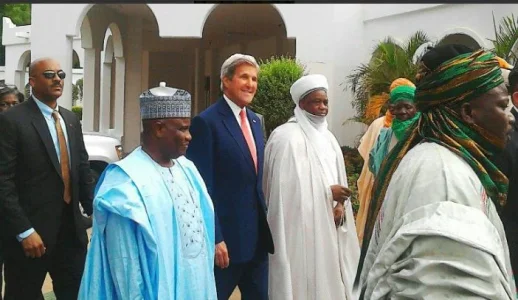 "The second was with the 19 northern governors, 16 of whom are Muslims.
"The third was our Muslim-fanatic and sharia-loving President who has refused to call his kinsmen, the Fulani herdsmen and militants, to order or to arrest and prosecute even one of them for mass murder and genocide.
"On the very same day that all this was happening the Islamic Development Bank visited the President and opened their first office in Nigeria", he said.
He pointed out the following findings:
1. John Kerry has just confirmed that spiritually, Nigeria is now an lslamic State.

2. His inspiring attacks on corruption, bad governance and all that stuff are thrilling but only a facade. He and the government of the United States of America are here to divert attention from the real thing.

3. They are pushing the absurd narrative that we should blame past governments, who they claim did not tackle poverty etc., for the rise of lslamic terrorism in the north and that the Sokoto Caliphate has always been the region, which provides Nigeria with decent human resources for good governance.