✅ NEW - get your business listed and your information shared across social media.
After weeks of media battle with the General Overseer of the Omega Fire Ministry, Apostle Johnson Suleman, Canadaian based singer, Stephanie Otobo, said she has now handed everything to God.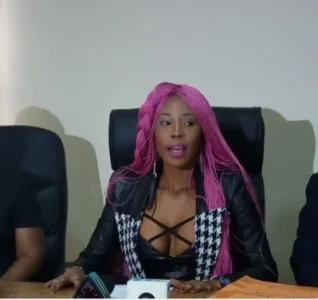 She said this few weeks after dropping a gospel single, adding that it does not matter to her how people will look at her as 'born again.'
Recall that Stephanie had accused the cleric of entering into amorous relationship with her, impregnating her in the process and abandoning her.
The singer also explained how she started singing gospel song even after being seen as a stripper by some persons.
She said her inspiration to do gospel music came from her experience in Kirikiri prison when she was locked up by Apostle Suleman.
According to her, "What really inspired me was my experience in jail in Nigeria. It was the fear and terror I lived through while in jail in Kirikiri prison.
"I live in Canada and if I was a thief, one day I would expect to go to jail. If I was a killer, one day I would expect to go to jail.
"I have never done anything that would make me think that I could ever go to jail.
"So, going to jail in Nigeria was terror. I remember what my father came out to say some things about me then when I was in jail.
"Even though he couldn't do anything to help me, knowing that I have his support meant everything to me.
"The experience in prison made me ask God for mercy and for His help to scale through.
When asked at what point did the issue of stripping in clubs came in, she told Sun, "I don't know if it's because I'm an entertainer.
"Generally, as you sing, you are not just singing, you're dancing and using your body to attract others and entertain your fans.
"I don't know if that was why people claimed I was a stripper. I was just an entertainer.
No, I wasn't [a stripper]. My life currently is like a whole new experience. Whatever I had done or practised didn't please God. I don't do them anymore.
"I left them all behind in the pool of the drama with the man of God. Old things have passed away and this is a new me.''