✅ NEW - car park, swimming pool, 24 hours light/security and more.
Zamfara State Governor Abdulaziz Yari said his comments on meningitis outbreak was twisted by some elements with a view to ridicule him because of his rising political reputation.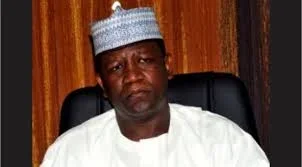 He said he only lamented the paucity of appropriate vaccines to confront the outbreak of meningitis in his state and not that the outbreak was a divine punishment from God for sins of fornication committed by the people.
The governor spoke through his special adviser on media and public enlightenment, Ibrahim Magaji Dosara, yesterday in Abuja.
The spokesperson said the governor merely asked Nigerians to move closer to God and plead for his mercy to avert further infectious diseases in the state and Nigeria since God has answers to challenges.
"This is exactly what the governor said. But because some people are out there to ridicule him at the slightest opportunity and make a mountain out of a mole hill with a view to tarnishing his rising reputation, the innocuous statement was misinterpreted and quoted out of context for reasons best known to the authors," the governor said.
"Let it be known too that the governor still insists that all diseases come from God and that at no point in his interaction with the reporters did he insinuate that God was punishing Nigerians but instead drew from the teachings of great Islamic traditions to buttress the point he was trying to convey," the spokesperson said.
"The governor said the situation was unfortunate because the state does not have enough vaccines yet for the Type C Meningitis.
"The governor thereafter enjoined all Nigerians to embrace prayers, as God who is aware of the outbreak of the ailment surely has antidote for it," the spokesperson said.
Yari also appealed to Nigerians to make deliberate effort to be closer to God by shunning sins of fornication and other forms of disobedience so as to receive his divine health and other blessings, adding that God is closer to those who obey him and distant themselves from sins.
"No doubt, as a God-fearing man, and a Muslim, the governor believes in the powers of God to inflict whatever punishment He decides on the human race. However, the governor who spoke in Hausa had a particular audience in mind when he spoke to the BBC Hausa reporter," Dosara said.