The Minister of Power, Works and Housing, Mr Babatunde Fashola, has debunked the report attributed to him that the nation's Power Sector was illegally sold.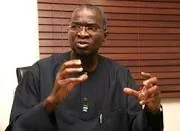 Daily Trust had in a lead story published on Wednesday quoted the Minister as saying that the investment of the Federal government in the power sector was legally sold. He spoke at a Senate Public hearing on the electricity tariff hike on Tuesday.
In a statement, his Special Adviser on Media, Mr Hakeem Bello, distanced the Minister from the alleged pronouncement, saying in all his presentations before the Senate Committee, the Minister never used the word "illegally" to refer to the privatization of the Sector by the Federal Government.
" Rather, and this can be verified by a playback of the video recording of the session, the Minister in his opening remark at the session noted, " …As Minister, I inherited a Power Sector where Government interests had been legally sold…" he said.
According to the Statement, the Minister in tracing how the country got to this point referred to the Privatization Law made in 2005, "The people of this country through their parliamentarians made a verdict in 2005 when you passed that law that things must change. The law was passed in 2005 and the process was completed in 2013. I wasn't here, some of you were here, if the process is bad where was the oversight".
Describing the Daily Trust report as unfounded and misleading, the Statement enjoined newsmen to always endeavour to clarify their facts before going public , pointing out that the media department and indeed other officials of the Ministry were always ready to answer questions and clarify any issues concerning the Ministry.
Source: Daily Trust