David Ogundele, 36, who allegedly killed his 27-year old lover, Tosin Ashinwo has confessed that he was under spell when he killed the alleged lover and her mother. He was paraded alongside other suspects on Wednesday by men of the Nigerian Police, Kwara division led by Samuel Okaula, the Commissioner of Police.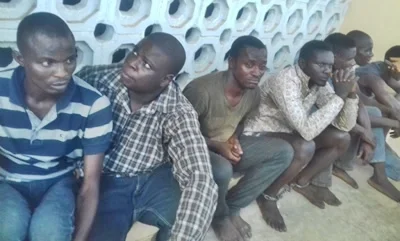 The Police chief disclosed that the suspect who is a worker with Landmark University Secondary School, Omu-Aran, Kwara State, had been married to his wife, Ronke, for about seven years without a child, adding that Ronke, on hearing of his relationship with Ashinwo, threatened to deal with him.
"I have been married for about seven years without any child from my wife, Ronke. After people saw me with Ashinwo, they told my wife stories that were false. That made her (Ronke) to get annoyed and she threatened to deal with me. It was after I stabbed Ashinwo and I saw her collapsing that my eyes became clear.
"We were very close. We met last year November and things had been going on fine with us. I do not know what made me to kill her. We were friends. She loved me and I loved her as well. I don't know what came over me," he said.
Okaula said on April 25 at about 8:00am, Ogundele allegedly murdered Oshinwo, who was a worker with MTN, adding that the suspect claimed that she refused his marriage proposal and went further to stab her mother.
The CP stated that the command in its determination to arrest the culprit, set up an intelligence-based unit which arrested him on May 13 at Oba-Ile in Osun State.
Source:
tori.ng
[1588]