Emeka Ihedioha, former deputy speaker of the house of representatives, has accused Imo state Governor, Rochas Okorocha of positioning himself for the presidency.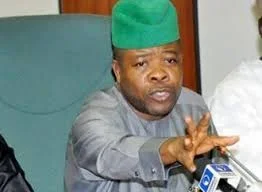 In an interview with VANGUARD, Ihedioha said Okorocha is going about his ambition the wrong way because if any party wants to project him they would be interested in his performance. Also using the avenue to react to former president Olusegun Obasanjo's statement that Igbos should produce the next president in 2019, Ihedioha said, "I have not had time to reflect on the statement of Obasanjo who is a very knowledgeable Nigerian of international repute, a critical leader who understands Nigeria and perhaps better than virtually everyone else and I am sure he must have his conviction and reasons. As we progress, I will study his projection and see the reality of it," he said.
"As for Okorocha, he is a show man and he has always set his eyes on the presidency and I am aware that he is trying to position himself to look attractive.
"If that is what he is doing, he is going about it the wrong way because if any party wants to project him, they would be interested in his performance at home and obviously that performance does not sound positive."
[4825]