The Nigerian Navy, NNS Jubilee in Ikot Abasi Local Government Area said it had deployed two Naval Security Stations to Akwa Ibom waterways to forestall maritime illegalities.
The Commander, NNS Jubilee, Commodore Saidu Garba, made this known in an interview with the News Agency of Nigeria (NAN) on Thursday in Ikot Abasi.
He said the two naval security stations were deployed to Okpobo and Ataba rivers to checkmate activities of oil thieves in Akwa Ibom waterways.
"The Chief of Naval Staff had in January approved the establishment of naval security stations in Akwa Ibom waterways to stop oil thieves," Garba said.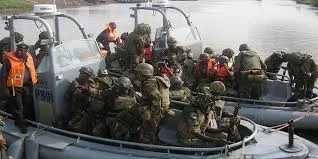 He explained that naval security station was a house boat fitted with guns and navy personnel to fight criminals on waterways.
He said the stations were deployed to two important places that led to the entering point of criminalities in Akwa Ibom waterways.
Garba added that "since the deployment of the naval security stations, criminal activities have reduced drastically.
"If any criminal wants to sneak or cross into our waterways, naval personnel will see them immediately," he said.
- NAN
[2013]