✅ NEW - get your business listed and your information shared across social media.
Minister of Sports and Youth Development, Barrister Solomon Dalung has explained why he wears 'Khaki' uniform to public functions.
Nneka Ikem Anibeze, the spokesperson and Special Adviser to the Minister of Sports and Youth Development, Comrade Barrister Solomon Dalung said the Minister ''is a staunch activist who cares for the welfare of the masses. His wears portray the struggle for the government to provide a better life for the people''.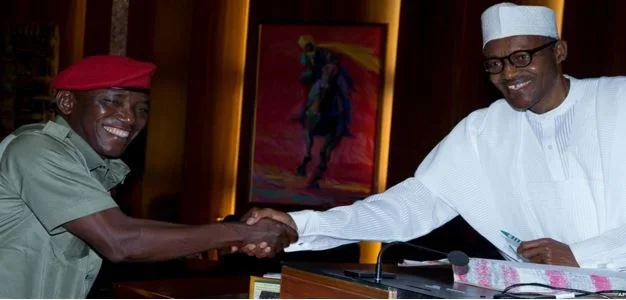 It will be recall that a pro-democracy non-governmental organisation, the Human Rights Writers Association of Nigeria, has asked President Muhammadu Buhari to probe the Minister of Sports and Youth Development, Solomon Danlong, over his preference for appearing in red beret cap and dress that "depicts him as a suspected member of one of the banned confraternities/secret cults in Nigeria's tertiary institutions".
She said: "My boss is a Comrade and will like to be seen as one. He is a voice for the voiceless who loves to fight for the hopeless and the down-trodden. That is just his style. It also indicates that the struggle continues wherever he finds himself and in whatever position."
Nneka said: "I trust my boss, he is as constant as the Northern Star. He won't change regardless of his position. That is simply his style", Nneka who is the first female sports Journalist to be special Adviser to a Minister said.