A group, under the umbrella of Federalist Movement of Nigeria has stated that members of the Indigenous People of Biafra (IPOB) are decamping to other separatist groups since the court declared it a terrorist group.
The group therefore called on the Federal Government of Nigeria to immediately bring the weight of the law to bear on criminal elements that were hiding under agitation against marginalization to breach the constitution and the extant laws of the land.
FNM made this know via a statement signed by its convener, Emmanuel Ogah and made available to Dailypost on Wednesday.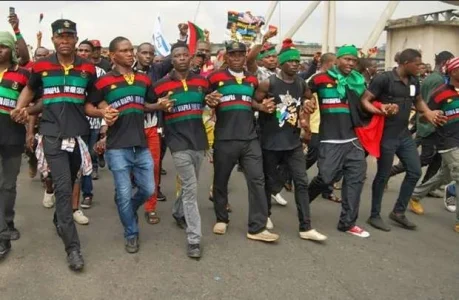 The group said that the call became imperative following reports that many members of the Indigenous People of Biafra (IPOB) have started migrating to other separatist groups that are becoming virulent and could soon continue acts of aggression from where IPOB stopped before the court ordered that it is a terror group.
Ogah said, the Biafra Zionists Federation (BZF) led by one Benjamin Igwe Onwuka, having been swelled in membership by defecting IPoB members, is now ramping up its purveyance of hate speech and incitement to violence in the fashion of the terrorist group.
He said, "Onwuka, speaking as BZF leader, is calling for attacks on the Chief of Army Staff (COAS) – Lt. Gen Tukur Buratai and the Minister of Information, Alhaji Lai Mohammed, including threatening them with trial at the International Criminal Court on a shallow basis".
[3499]