The Indigenous People of Biafra, IPOB, has commended parents for withdrawing their children from schools over alleged forceful vaccination even as the organisation urged parents not to allow them back to school until Army withdraws the medical exercise.
IPOB in a statement signed by it's Media and Publicity Officer, Mr Emma Powerful, said the present All Progressive Congress, APC, government and Nigerian Army are determined to kill as many Biafrans as possible in Anambra State, and South East in general.
"IPOB leadership worldwide through the instrumentality of the Directorate of State do hereby declare that no parent in Anambra State should allow their children to go to school until the Nigerian Army suspends this sinister vaccination on our children; vaccine is administered by personal submission not by force to our children without the consent of parents.
Related: Commotion in South East Over Nigerian Military 'Vaccine'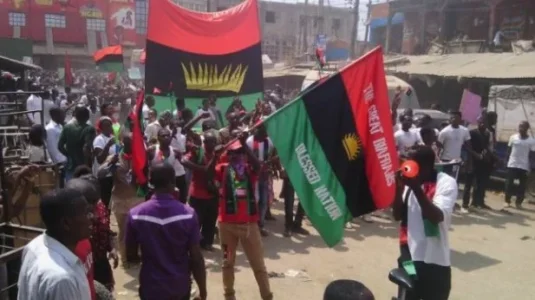 It is a plague in the making, that will lead to thousands if not millions of deaths.
"Our children are now at the front line of a major biological warfare waged by Hausa Fulani Islamic government seeking to kill as many Biafrans as possible out of pure hatred and bigotry.
"All teachers should stay back home and no pupil or student should go anywhere near the Nigerian Army pending further announcement from IPOB High Command and Directorate of State."
"Biafrans must know that it is not the duty of the Army to administer vaccines because the same exercise is not happening anywhere in Arewa Northern Nigeria where diseases and infections are rife."
[2032]