✅ NEW - get your business listed and your information shared across social media.
The United Kingdom branch of the Indigenous People of Biafra, IPOB, has faulted the reasons given by Hon. Justice John Tsoho of the Abuja Federal High Court Abuja for not granting the bail application of leader of IPOB and Director of Radio Biafra, Mr. Nnamdi Kanu.
In a statement signed by the spokespersons for IPOB in United Kingdom Mr. Emma Nmezu, a lawyer, and Dr. Clifford Chukwuemeka Iroanya IPOB said the Honourable Justice Tsoho premised his judgment for not granting bail to Mr. Kanu on three reasons.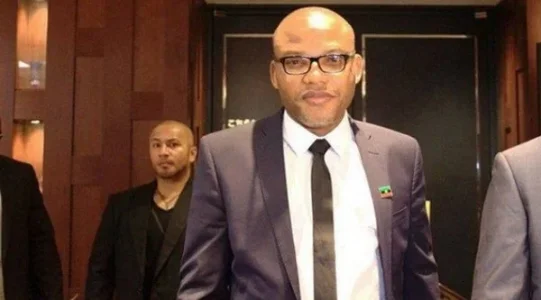 "The reasons according to him are, that Mazi Kanu was a threat to national security, secondly, that if released might commit the same offence again and thirdly, that there was a probability that Nnamdi Kanu might jump bail because he possessed dual citizenship.
"While the first and the third reasons are very clear, but unsustainable statements, we are at loss with the second reason and do not know exactly what the Hon. Justice meant by "might commit the same offense again"
"To the best of our knowledge, Mazi Kanu has not even been tried in the court not to talk of being convicted, therefore, we do not understand the offence he was found guilty of committing and for which he will likely commit again if released, according to Hon. Justice Tsoho.
"Is it a possibility that the Hon. Justice Tsoho misspoke or that he never actually uttered this travesty of a statement. On the first reason adduced, we are yet to get detailed information on what the Judge meant by "threat to National Security" because we know that Mazi Kanu is not associated with Boko Haram or any terrorist organization. Again we are pushed to believe that Hon. Justice Tsoho misspoke," said IPOB.

Vanguard