✅ NEW - car park, swimming pool, 24 hours light/security and more.
The Indigenous People of Biafra, IPOB has reacted to the
statement credited to late Dim Chukuemeka Odimegwu Ojukwu's son, Debe Ojuwku on Biafra struggle, Nnamdi Kanu and IPOB leadershi
p.
IPOB in a statement signed by its spokespersons Mr. Emma Nmezu, a lawyer and Dr. Clifford Chukwuemeka Iroanya said "it is worthy to note that the Ojukwu Family of Umudim-Nnewi, Biafraland, have since dissociated themselves from this Sylvester Ude a.k.a. Debe Ojukwu, an impostor".
Sylvester Ude a.k.a. Debe Ojukwu started the interview by insinuating that IPOB under the leadership of Mazi Nnamdi Kanu is a violent movement when he said the following: "There are many Biafra agitators of which I am one. I am one, but I subscribe to the legal and diplomatic agitation; not the violent agitation."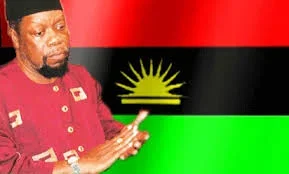 "Even though we do not want to go into what makes Sylvester Ude a.k.a. Debe Ojukwu to claim that he is a Biafran agitator when he is a card-carrying member of Nigeria's APC party but we would like to request Sylvester Ude a.k.a. Debe Ojukwu to provide a single evidence to show that we are violent.
"Is Sylvester Ude a.k.a. Debe Ojukwu aware that utterances such as these can land him in jail via a class-action lawsuit? Does this man, know that we have been mowed down by agents of the present government for simply gathering and praying in a school football field?, they said.
Related:
Ojukwu's Son Finally Speaks About Biafra, IPOB Activities and Nnamdi Kanu