Islamic State has abducted around 900 civilians, mainly Kurds, in northern Syria over the past three weeks, a monitoring group said Friday.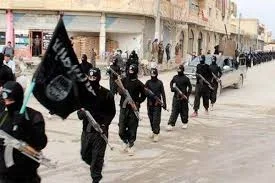 This is coming as Kurd-led insurgents are attempting to dislodge the extremists from their strongholds in the area.
The kidnappings took place in villages near the Islamic State-controlled town of al-Bab in the north-east of Aleppo province, the Syrian Observatory for Human Rights said.
"The 900 included some Arabs from the villages near al-Bab, but the majority are Kurds," Observatory head Rami Abdel-Rahman told dpa.
The militants transferred some 350 of those abducted to al-Raqqa, the de facto capital of Islamic State in Syria, he said.
The others were reportedly taken to detention centres inside Islamic State-held areas in northern Syria.
The extremists executed 13 civilians and shot dead five more who were attempting to escape, the Observatory said.
Source: (dpa/NAN)
[755]