Former President Goodluck Jonathan on Sunday boycotted a special thanksgiving service hosted by Vice President Yemi Osinbajo at the Aso Villa Chapel.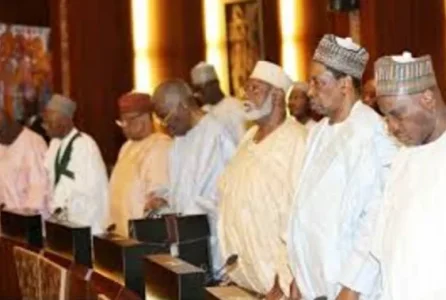 The vice president told Daily Trust correspondent after the service Jonathan was among those specially invited, "but unfortunately, he had to cancel at the last moment."
Past leaders who are Christians that attended the service included former Head of State General Yakubu Gowon (rtd), former President Olusegun Obasanjo, former Head of the Interim National Government Chief Ernest Shonekan, former Vice President Alex Ekwueme, former Chief of General Staff Rear Admiral Ebitu Ukiwe, General Oladipo Diya (rtd).
Osinbajo, who said the service was organised to thank God for all He had done for the nation this year, stated: "Today is a special thanksgiving for the end of the year. And as you've seen, all the former presidents and vice presidents are here for the special thanksgiving service. They've been specially invited to come.
"We also expected (former) President Jonathan, but unfortunately, he had to cancel at the last moment. So, we are all extremely excited that we have been able to bring everyone together to thank God for our nation and to give Him thanks for the great future ahead of us."
Also speaking, Gowon called on Christians in the country to love their fellow citizens regardless of their faith as expected by Christ.
PLACE YOUR ADVERT HERE
Connect with Politics News Readers!
[5651]