✅ NEW - get your business listed and your information shared across social media.
Former President Goodluck Jonathan allegedly expressed disappointment over the handling of the 2015 elections by Attahiru Jega, former chairman of the Independent National Electoral Commission (INEC).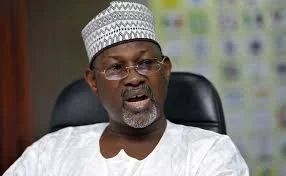 Segun Adeniyi, Nigerian Journalists and former Spokesperson for the late President Umaru Musa Yar'Adua made the disclosure in his new book titled, 'Against the Run of Play'
Quoting Jonathan, Adeniyi wrote, "I was disappointed by Jega because I still cannot understand what was propelling him to act the way he did in the weeks preceding the election."
"As at the first week in February 2015 when about 40 percent of Nigerians had not collected their PVCs, Jega said INEC was ready to conduct an election in which millions of people would be disenfranchised."
"Of course, the Americans were encouraging him to go ahead yet they would never do such a thing in their own country. How could we have cynically disenfranchised about a third of our registered voters for no fault of theirs and still call that a credible election?"
"The interesting thing was that the opposition also supported the idea of going on with the election that was bound to end in confusion," the former president said.