Nigeria's petroleum minister Ibe Kachikwu on Monday disclosed why he nominated H. E. Mohammad Barkindo, as secretary general of the Organization of the Petroleum Exporting Countries (OPEC).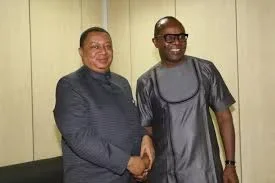 Kachikwu made the disclosure while receiving the OPEC Sec Gen Barkindo. He said when the campaign for the job was heating up, he met with a prince of Saudi Arabia, who is the country's petroleum minister, to convince him to support Barkindo for the position as he possessed the necessary qualities.
Kachikwu said: "I met with the prince, and I told him I have a candidate who has seven qualities that an OPEC SG must possess. He asked me to list them, and I said: '1, Barkindo has the intellectual insanity to work there'. At that time, OPEC was in a rough rumble that only a mad man will take the job. I also said he is humble and that he is a master statistician."
PLACE YOUR ADVERT HERE
Connect with Politics News Readers!
[4982]